JOIN OUR GROWING TEAM!
As we are a new and growing business, we are always looking for both fresh and well-seasoned talent to join us on the journey! Our team enjoys discounts on farm-fresh meals, flexible schedules, top-quality training, and advancement opportunities.

Do you have a great smile and passion for above and beyond hospitality? Do you love fresh, wholesome meals? Are you ready to learn and grow alongside enthusiastic, driven team members like you? If the answer is yes, you belong on our team! Apply now at apply.jobappnetwork.com/pine-island/en or text picsjobs to 85000.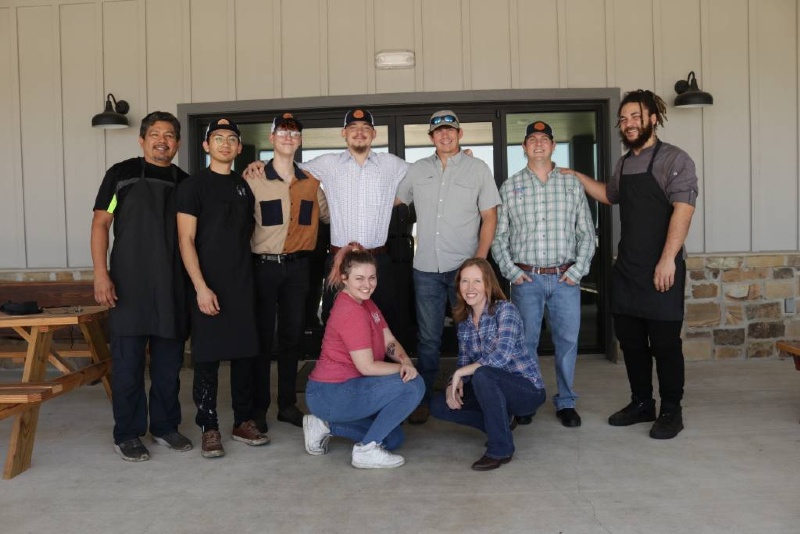 MEET OUR TEAM!
RYAN FONTAINE, OWNER
Ryan's journey to restaurant ownership started in 2018 when he began selling eggs at the local farmers' markets in Houston after his chickens began producing more eggs than he and his friends and family could eat! After some time, he purchased property in Pine Island, located near Hempstead, TX, and started Rise & Shine Farms. Once the chicken farm was well on its way and sustainably producing quality birds, Ryan decided to open up shop to share the farm fresh, peaceful country dining experience he had come to love.

Ryan has a background in education and is passionate about investing in the next generation of workers. He is a hands-on owner who puts in hard work, leading by example. You can often find him in the kitchen, coaching our staff on the details of making the perfect chicken pot pie, pickling cucumbers from the garden, helping hand-cut the day's batch of French fries, running out to the garden for fresh herbs, and visiting with guests in our dining room.
ALLEN BURNS, OWNER
Allen was born into a family with generations of farmers. He has ranching and farming in his blood. His behind-the-scenes role, making sure the farm, property, & animals are tended to, is at the heart of our restaurant operation.

Allen's love for life on the farm began when he was young, spending summers in Mississippi, visiting his grandparents. It was there that he would help his grandpa cut hay, feed the cows, and take care of business. Growing up, Allen grew to appreciate that there was always something new to do and learn on the farm as the seasons changed. He still loves new daily challenges that come from raising food and animals.

As an adult, Allen worked for a while in construction but was eager to return to his roots in the farming and ranching business, and we are glad he did! You won't see him in the shop often. But rest assured, he is invested in doing what it takes to bring you the most wholesome meals available. And he is enjoying every minute of his work outside in the sun, caring for the animals, making sure everything in the background runs seamlessly.
A LETTER FROM OUR OWNER
At Pine Island Country Store, we are passionate about preparing fresh farm-to-table meals. We serve up made-from-scratch, classic southern comfort dishes with the freshest ingredients available. Quality steaks, farm-raised fried chicken, shrimp and grits, & chicken pot pie are just a few of the crave-able dishes we cook up daily.

Our restaurant's mission is to provide the very best experience for you and your family, just as we would our own family. How do we do that? By providing down-home southern hospitality along with the tastiest southern comfort dishes around… but, shhhh! Don't tell granny we said that!

Come enjoy delicious, wholesome meals with a great glass of wine, your favorite ice cold beer, or our freshly brewed peach tea. Relax and take in the peaceful country view of the farm pastures from our front porch.

Cornhole and other games are available for kids of all ages to enjoy before or after the meal. And, as if a comfortable seat with a beautiful view of a country sunset isn't enough, homemade pies and cakes are always on hand to treat yourself after a long day! We hope you will feel like one of the family when you join us and taste the difference that farm-fresh, scratch-made recipes make in every bite!

Hope to see y'all soon,

Ryan Fontaine